One can hardly imagine how things unfold, almost serendipitously! Since last year our boarding school kids have been spending their holidays at Project Why teaching the younger children and participating in all activities of the centre. It all began in April 2018 when Utpal and  Babli started going to the Khader centre to 'pass' time as they had just finished their Boards and had a lot of time on their hands while waiting for the results. They both taught junior classes and Utpal also taught he children dance. They enjoyed the experience and were all set to return during the winter holidays.
During the winter holidays as the children were preparing for their New Year Party and Republic Day celebrations, Utpal, the born entertainer, took on the role of master of ceremonies and choreographer. Needless to say the shows were perfect.
Volunteering became a part of these kids life. Every holiday they would return to Khader soon joined by Manisha, Meher and Vicky.
They did it with love and dedication, as if they knew in their hearts that this was the right thing to do. They were paying back!
This summer they would go one step ahead.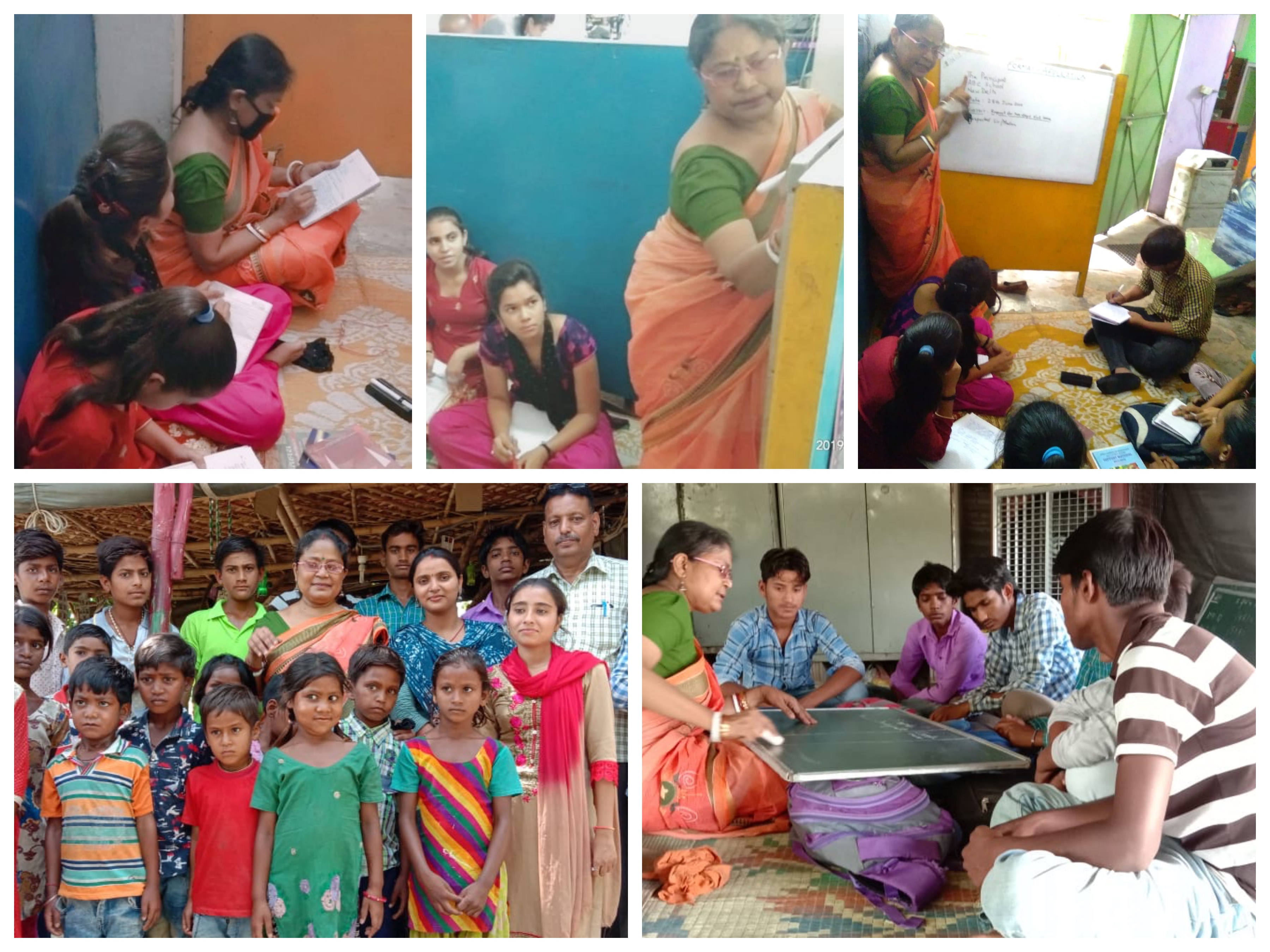 One fine morning Utpal told me that his Ma'am Madhumita was going to visit the Khader centre. I was pleasantly surprised but did not give it much thought at that time. Madhumati Ma'am came and taught at both our Khader and Yamuna centres. I put up a post on facebook thanking her for her visit and it is only when I saw her answer that I realised how Utpal had organised this visit. He had taken ownership of the Project. I share her post here: But I am really grateful to my dearest Utpal who had called me up one fine afternoon , when I was in Kolkata, requesting me to take class it was as though he had heard my hearts wish. I had been always wanting to pay a visit but due to my ill health , I was unable to do so but Utpal's call came to me as a blessing from heaven, and Utpal was that messenger of God. Madhumita Nag Pathak Teacher CSKM
My heart filled with gratitude and joy. Looked like we had done our job well and instilled the right values in these children even though they were away from us in boarding school. Utpal had felt the desire to have his beloved teacher come and share her knowledge with the Project Why children. It was his initiative. He had taken ownership of the Project.
Utpal even invited the manager and of his school canteen to discuss funding options as he knew we were short of funds. Mr Sharma spent time talking to Dharmendra and sharing his ideas. It was a fruitful interaction that opened other ways of thinking and new possibilities.

At a time when we are all worried about the future of Project Why, these small initiatives are like a breath of fresh air. They are also proof of the fact that the next generation is ready to take the lead of Project Why 2.0. It was simply a matter of time.
It is also time for the likes of me to realise that our ways may not be the right ones anymore and that one has to accept change and go with it. It is time to pass the baton. We have  done our bit and done it well. Now our role is to help the new generation take ownership.