Adopt A Teacher
Empowering Teacher to Educate the future generations and curb dropouts.
Teachers matter. Every day, in schools, in early learning crèches or educational centers, they do amazing things. Teachers are more than imparting knowledge. They create a safe environment for learning, impart life skills, mentor and become role models. They inspire children to continue their learning process and improve their learning outcomes.  
[I made progress] because without joining the Project WHY I think I could not speak as much English as I am speaking now.
                                        (Govindpuri Education centre student, 13)
'Teachers in our school only explain once. They were sometime rude and teach less. Teacher in Project WHY explain until we understand. They were polite and teach us easy method.'    
                                        (Okhla Education center student, 14)
At Project WHY, our greatest assets are our teachers. At the very beginning we consciously hired teachers from the community where we worked. Through our 20 years of work, we've seen how great teachers can transform the lives of their students and their wider communities for the better. That's why, together, we can work to empower them, raise their status to raise standards of educational support for our underprivileged children.
At Project WHY, there are 41 teachers across 5 educational centers in Delhi. By adopting a teacher, you enable a good teacher to reach out to 50 underprivileged children that need educational support to complete their schooling years. Without good teachers, this is not possible.  By Adopting-a-Teacher Campaign you ensure that every child, no matter what their background, gets a good education by having access to a good teacher.
Help support our initiative by adopting one of our teachers for as little as INR 10,000 rupees a month (USD 145 or euros 130).
We urge you to adopt a teacher as an individual, or a group of friends.  It's easy. Click on the "Donate" tab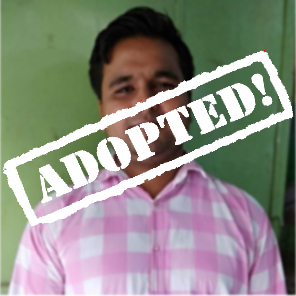 Vijay Gupta
"Here, at Project WHY my abilities to teach has been challenged and I have learnt a lot. I have been given the space to not only to expand the thinking process of children but also put my thinking hat on for many occasions"
Vijay's family originally belong to Bihar. They shifted to Delhi for better earning purposes. Vijay's father currently owns a tea stall while his mother is a housewife. Vijay has one elder sister Sonia Gupta who was a computer teacher at Project WHY.
Vijay completed Bachelors of Art (BA) in 2014 and computer diploma. After his studies, he joined a courier company ARAMEX for one year and left the job to open a computer repairing shop. "My passion is computers and I wanted to build a career with it".
However, the computer repairing shop was not earning much and Vijay had to close the shop. He joined his father in the tea stall. "It was frustrating, jobs were not easily available".
When Vijay's sister informed him about a teacher's position at Project WHY Khadar educational center, he applied and joined Project WHY in March 2018 as a computer teacher.
"I am back to what I do best – being with computers and teaching – thanks to Project WHY". He joined Project WHY as he thinks that teaching children is the best.
"Here, at Project WHY my abilities to teach has been challenged and I have learnt a lot. I have been given the space to not only expand the thinking process of children but also, on many occasions, had to put my thinking hat on".
Vijay also teaches primary class students in Yamuna. Along with academic, he shows the children how to make interesting objects with waste materials. His financial condition has stabilised while working at Project WHY.