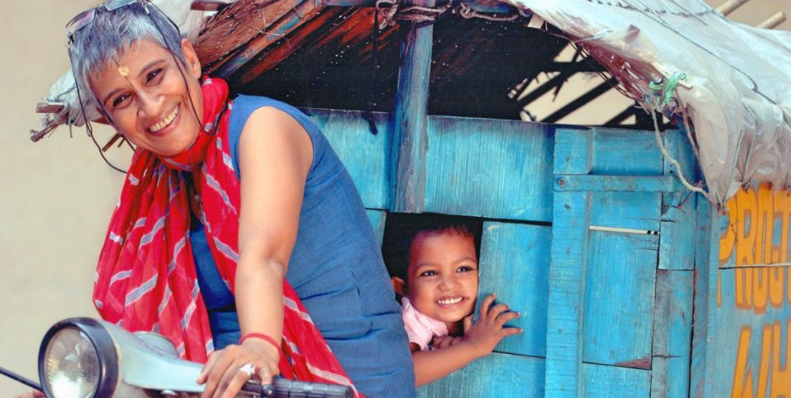 In a few days 2019 will end and we usher a new decade and celebrate 20 years of Project Why. Yes it has been twenty years, something we can be proud of as is amply proved by the now almost innumerable success stories and miracles that have come our way. Twenty years is a long time, a generation it is believed and nothing exemplifies that more than our dearest Kiran who was born a few weeks before we began our journey and who has now joined Project Why as its youngest teacher. And talking of miracles our darling Utpal who landed in Project Why as a scalded baby and spunky Babli whose little dreams were hampered by a hole in her heat will both be sitting for their class XII Boards in February 2020.
It is against this backdrop that I write my yearly message so before I go further I will allow myself a few moments to simply revel in all that has been achieved and give ourselves a big tap on our backs. Now on to more serious and critical matters.
As I shared with you before we were informed in 2018 that our largest donor would end its commitment to us in March 2019. They supported Okhla and Khader which is about 50% of our expenditure. It was a huge blow. I requested them to soften it and at least continue funding one centre for one more year which they were kind enough to do. But come March 2020 that too will be stopped. So as you may have guessed 2019 was spent trying to fill these huge shoes. The hope was to find one or two large funders who would take on these two centres. We applied to many institutions and organisations but without success. We almost got a grant from Wipro Cares but did not make it as there were too many applicants from the Delhi region. We only managed to get one small grant for our early education programme.
We approached business houses for CSR and were able to secure funding for our Giri Nagar centre.
Our venture into crowdfunding yielded some results as we secured 4 months funding for our Okhla Centre and also funds to repair the badly leaking roof of our Khader centre. We intend to continue this approach from time to time.
We increased our social media presence and ran several workshops to teach our team the intricacies of social media. But we realised that to truly succeed we would need to include a social media expert in our team and hope to find the funds to do so in 2020.
To address the critical question of succession and the  'After Anou, who' we decided to strengthen the managerial skills of our Centre Managers. A staunch supporter and a Board member took on this task which is work in progress. It was also suggested we undertake a 'change management' exercise which could not be done due to paucity of funds but that we again hope to achieve in 2020. I have full confidence in my Centre Managers and their ability to lead from the front. All they would need is some hand holding and some capacity building. I hope we can make them the leaders they deserve to be.
Our regular donors and international partners stood strongly behind us and that is what enabled us to sail through the year. We are eternally grateful to them. Project Why UK became a registered charity in the fall of 2019. A moment to be proud of.
A big surprised awaited us in September 2019. A dear friend and staunch supporter who is also an international writer published her first book and promised half of the proceeds to Project Why. The launch of the book on social media gave Project Why visibility and brought new supporters. We are overwhelmed by her kindness and deeply grateful to her.
In September 2019 on teachers day, we launched the Adopt a Teacher campaign as we felt that this could be a successful fundraising option. By the close of the year 17/41 teachers have been 'adopted'. If we are able to get all of them adopted in a sustainable manner we would be able to meet the 50% shortfall we face. This will be our endeavour in 2020.
This was all that happened backstage.
On the front we continued to enhance the quality of our support to children and motivated the team to strive higher. Many workshops were organised and our in house assessment programme bore its fruits as we could see marked improvement in many children and take immediate remedial measures for those in need. Many of our children stood first in their classes in school and in excelled in co curricular activities. We are really proud of them.
2019 also saw the beginning of regular alumni meetings. It was a moment of joy and pride to see our old students who have all found ways to fulfil their dreams.
True 2019 was not the magical year where all problems are solved in the blink of an eye. It was a difficult year that kept us on our toes. There were setbacks and lessons to be learnt. Sustainability is nowhere in sight. Quite the contrary. The fear of having to downsize looms large as March 2020 is around the corner and we have no real solutions. But somehow the support and love that came our way once again makes us believe that things will fall in place.
I am deeply indebted to my incredible team that runs the show perfectly, to my Board who gives me the courage to carry on and the children who make it all worthwhile.
As I write these words we are still far from meeting the required need. And yet I feel optimistic as I know that Project Why is a place where miracles happen.
I have never stopped beleiving in miracles.
Anou