Today it is my privilege and honour to reveal the cover for my friend Damyanti Biswas's debut crime novel, You Beneath Your Skin to be published next September by Simon & Schuster, India. I've known Damyanti for many years now and what began as a mere exchange of emails has blossomed into a life long friendship based on mutual respect and unconditional love. I've been a part of the journey of this book, and now it is always going to remain a part of my blog.
So, without further ado, here's the cover! The red and black immediately captures nuances of an atmospheric crime story, and the face visible under the title makes you wonder who she is, and what her story might be.
Here's the back cover blurb to tell you a little bit more about the novel:
Lies. Ambition. Family.
It's a dark, smog-choked New Delhi winter. Indian American single mother Anjali Morgan juggles her job as a psychiatrist with caring for her autistic teenage son. She is in a long-standing affair with ambitious Police Commissioner Jatin Bhatt – an irresistible attraction that could destroy both their lives.
Jatin's home life is falling apart: his handsome and charming son is not all he appears to be, and his wife has too much on her plate to pay attention to either husband or son. But Jatin refuses to listen to anyone, not even the sister to whom he is deeply attached.
Across the city there is a crime spree: slum women found stuffed in trash bags, faces and bodies disfigured by acid. And as events spiral out of control Anjali is horrifyingly at the centre of it all.
In a sordid world of poverty, misogyny, and political corruption, Jatin must make some hard choices. But what he unearths is only the tip of the iceberg. Together with Anjali he must confront old wounds and uncover long-held secrets before it is too late.
---
My dearest friend Damyanti asked me to read her first novel and sent me an advance copy of you Beneath Your Skin.
It was a PDF file and being environmentally conscious I decided to read it on my computer and not print it! I thought it would take me a couple of days with a bad back and an uncomfortable chair!
I began to read and was immediately taken in by the story wanting to know more, not being able to stop. Soon I was drawn into the familiar world of slums in Delhi where I work, and all my senses were tickled as I relived the sounds and smells and mood of what has been my life for 20 years.
Being an ardent lover of suspense novels I was on edge wanting to know what happened next and the bottom line is that I finished the book in one long sitting from morning to evening, even eating in front of my screen. I just could not move away.
I loved the characters and the numerous twists in the story. I look forward to reading the final version in a book form comfortably . I recommend it to all those who love suspense novels.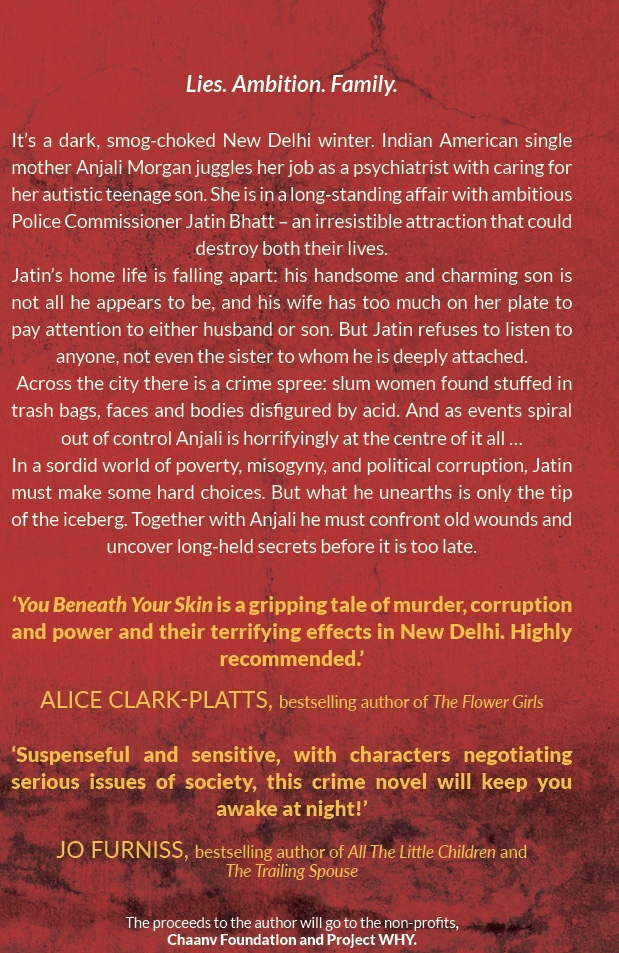 Do you read crime novels? What do you think of the cover of You Beneath Your Skin? Would you like to read this book?
All proceeds to the author from You Beneath Your Skin would be divided between Project WHY, and another organisation that works for the welfare of acid attacks survivors, Chaanv Foundation. If you would like to support a good cause, while reading an absorbing book, please pre-order You Beneath Your Skin.