We are the World Blogfest (WATWB) is about positive stories no matter where they come from. It is about remembering that there is good around you, all you need to do is look with your heart. Today I would like to invite you to a little beauty parlour located in the hustle and bustle and dusty lanes of Madanpur Khadar, where for a few hours a day a bunch of women from deprived homes come together in the hope of changing their lives.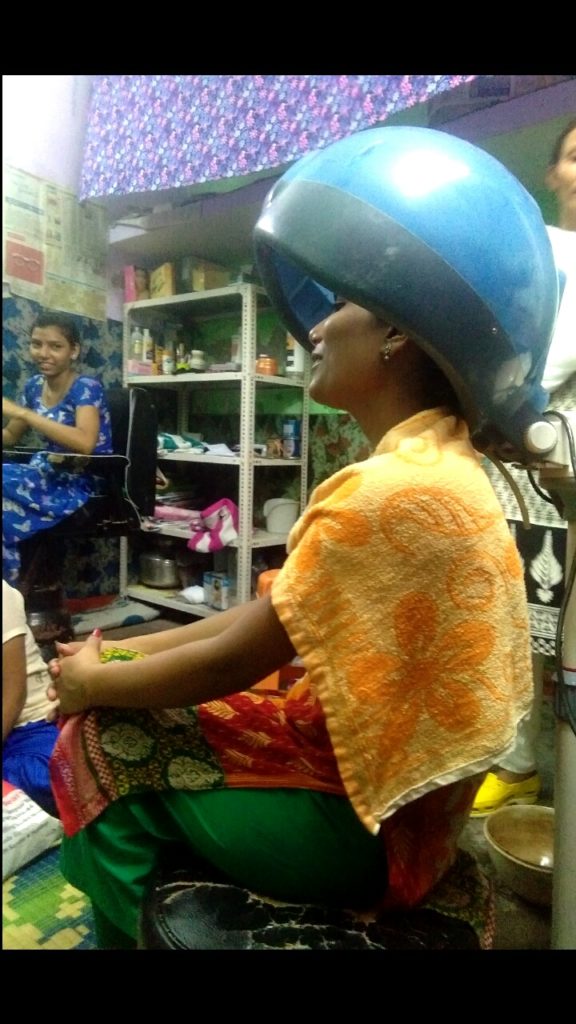 For the past 10 years now in a tiny corner of the Project Why Khadar is a small room that houses a minuscule beauty parlour where scores of women come everyday to learn the art of becoming a beautician. Most of them come from very traditional homes in the hope that learning this skill will help them break barriers and gain financial independence. Every year over 120 women get their diplomas and go on to take their first step in a new world. Most become small entrepreneurs and work from their homes or from their client's homes, some take a bolder step and open a small parlour of their own.
The tiny parlour is beautifully decorated in bright colours with pictures on the wall and in spite of the paucity of space it has its beautician chair, its massage table and even its hair spa steamer. Every day 4 batches of ladies come to this haven of beauty and learn the intricacies of beauty therapy. They are taught by Shanta, a feisty and brave woman who did not let a terrible tragedy alter the course of her life. Last year Shanta lost her husband in tragic circumstances but came back to teaching as soon as she could. She knew that her job was the only way to secure the future of her children. A befitting example for her students!
The ladies are taught all the skills required to become a full fledged beautician: from simple manicure and pedicures, to threading and waxing; from hair cutting to complex hair styling; from facials to bridal make up, from henna application to hair colouring, from head massage to hair spa, everything you can imagine is taught in that tiny space. What makes this unique parlour so special is the joyful atmosphere that prevails at all times. You can always hear laughter and giggles from behind the closed door as this is a women-only space.
For these women who often live lonely lives in their patriarchal homes, coming to class is also a social event as they can share their problems and stories with other women and be heard and even helped. It is undoubtedly the highlight of their day.
I feel so grateful and blessed when I see these women as they take charge of their lives. I  feel immense pride in having been able to help them do so.
If you are in Delhi, please come and visit the ladies of the Project Why beauty parlour. It will warm the cockles of your heart.