Amit Kumar

Amit's family originally belonged to Uttar Pradesh but lived in Himachal Pradesh, where Amit was born. His parents were both government employees.
Amit completed his school education in 1998. He got married in 2002 at the age of 23 years He then went to complete his graduation by 2003. His father passed away soon after.
In 2012, Amit family decided to shift to Delhi in 2012 for better earning purposes and being close to relatives. Amit has two girls and one boy. He got a job at a call center in 2013 however, he lost the job in 2015. His mother then became the only source of income for the family. He needed to find a job fast as he had to meet the expenses of his children's school. For one-year Amit looked for a stable job, but with no luck. He came to know about Project WHY from his neighbour, who at that time, was working as a teacher at Project WHY Khader.
"I applied for a teaching position at Project WHY, knowing that I would be rejected as I did not have any experience of teaching children (apart from my own). I was surprised that they appointed me as a secondary teacher at the Khader center." Amit joined Project WHY in 2016 teaching class 6 students. In 2017, he was made Khader center in-charge.
"Project WHY supported me in my time of need. They took a chance on my abilities. This motivated me to be the best teacher, not only for the organization but especially for the children I taught".
"I have grown in Project WHY and it seems like I have found my calling. I love teaching at Project WHY. A teacher's job is not just completing the lesson or curriculum. At Project WHY we have to see that each and every child has understood their class work. This has made me think outside standard methods of teaching and simplifying lessons. I had to dig deep, bring out stories of my past, use props, drawings and even films to ensure that each child learns.
Amit opted to teach at our Yamuna center and continues to use his new found experience to teach the bright young agriculture labourer's children.
---
AMOL KAROTIYA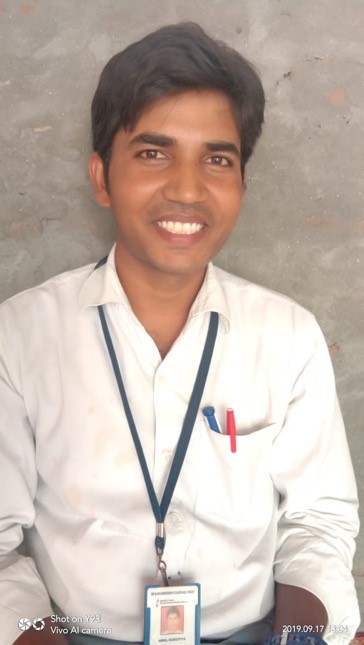 Amol's story is about knowledge with action – when you know better, you do better.
Amol's family originally belonged to Aligarh, Uttar Pradesh. Both his parents are not educated. His father is a master mason (raj mistri) while his mother is a housewife.
Amol completed his schooling from his village. While in his final year of graduation in 2015, due to family issues, he had to drop-out and was unable to give the exams. While looking for a job, Amol helped his father in the construction work and also worked part-time at a local electrical shop.
In 2016, Amol accompanied his father to Delhi for some work at Mr. Dharmender Beniwal's home, who is the Project WHY centre manager. They got talking about Project WHY. "I was intrigued to know that an organisation existed, that provided free education support to first generation learners. I could relate, as I was the first in my family to complete my school education and it was a challenge".
Amol visited the Project WHY Center. He then applied for a teaching position at Project WHY. "I believe in the saying – when you know better, you do better. I got to know Project WHY and the students better. Suddenly, presented with the opportunity to teach, I was motivated to make learning for children Yamuna and Khader as interesting and fun as possible."
Amol was appointed initially as a primary teacher at Yamuna center in 2016. In time, he graduated to teach our higher secondary students at Khader. Amol is very good in History and Political science. He can sit for hours with the children, as he really makes the subject like an interesting story for the children.
"I like teaching the children at Project WHY. I know that most of them do not get to clear their doubts in their government school. Here, at Project WHY, we give the children a free space to discuss their doubts first and never fear to ask questions. I like to answer their curious questions."
Once a week, to energize his class, Amol conducts a general-knowledge quiz among his students. This encourages the children not only to ask each other questions, but also to out-smart their peers.
---
Anita – The Power to Say 'NO'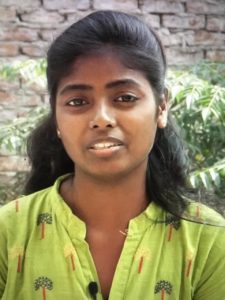 Anita's relationship with Project WHY started in 2001, when she started studying as a young girl in Class 1. Her father comes from Bihar and moved to Delhi in the late 1980s to study. However, due to financial problems, he was forced to start working at the nearby factory at an early age and settled in the Giri Nagar area.
In 2006, with Anita in Class 6, her father lost his job. Whilst her mother, a housewife then, was forced to begin running a stitching and embroidery service from home. In an effort not to let the family suffer, Anita's mother combined this income with her life savings to support their lifestyle.
Anita is one of the many examples of the opportunities that Project WHY can create. She attended the educational centre at Giri Nagar until Class 12, and recorded consistent scores of 80% throughout her school career. As one of our brightest students, she secured admission to the prestigious Delhi University to do her Bachelors in Commerce in 2012.
Anita returned to us after graduating, wishing to provide the same opportunities to similarly underprivileged children. Her parents were supportive, indeed they knew she was safe with us and did not want her working elsewhere. She joined as a primary teacher and then went on to teach some of our brightest secondary students. #Education4All
In 2015, she came to us with the news that she would have to leave the job, as her parents wanted her to get married and had found a boy in the village. We had no choice but to accept this. Yet, four months later, Anita returned and asked to resume her old post, which we were happy to give her. The boy's family had demanded a large amount of money as 'dowry,' claiming her to be dark in skin and apparently not sufficiently pretty.
"Studying and working at Project WHY had taught me a lot, especially about my rights, as a person. The years being with Project WHY has given me immense courage and confidence." Anita refused to get married. She spoke to the boy's family herself, rejected the boy and the forced marriage.
Dowry or Dahej is the payment in cash and/or in kind by the bride's family to the bridegroom's family along with the giving away of the bride (called Kanyadaan) in Indian marriage. Although dowry was legally prohibited in 1961, it continues to be prevalent. The groom often demands a dowry consisting of a large sum of money, vehicle, house, furniture, and electronics. The dowry system puts great financial burden on the bride's family.
At Project WHY, we pride ourselves in discussing prevalent social issues such as caste, dowry, violence against women and sexual abuse. We believe that we have made our teachers as well as our children, fully aware of their rights and responsibilities. Anita, at that moment, stood up for her rights and refused to get married on those terms and conditions. "I am as good as any girl on this planet," she voiced. #WomenEmpowerment #WomensRight
Today, Anita is back to teaching and continues to value education above all else. Together with her mother, she is funding her brother's B-Tech from Indraprastha University, striving to give him the same opportunities in life that she had. Concurrent to her work as a Secondary teacher, Anita has completed her Masters in Commerce and is also our documentation officer at Project WHY.
"I am thankful to Project WHY and will never stop supporting its mission through my teaching and sharing their stories of impact."
---
ANJALI UPADHYAY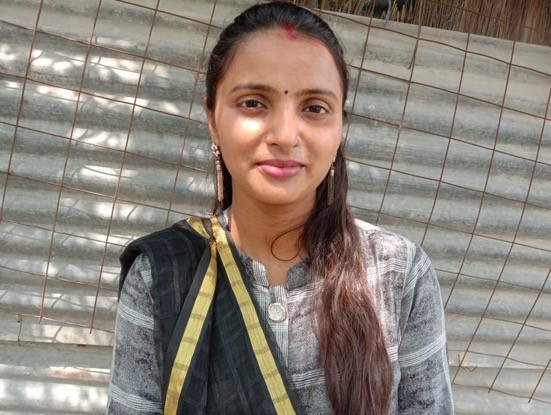 Anjali Upadhyay's story is about not giving up on one's dreams.
Anjali's family originally belonged to Bihar. Her father is a Life insurance sales agent while her mother is a housewife. She was born in Delhi. She has three younger sisters and one younger brother. After completing her class 12th, she was allowed to complete her graduation from Jamia Milia Islamia in 2012. Soon after her studies her family got her married.
"I was very fascinated by the teaching profession, from a very young age". But I was not given permission to go outside and get a job". In 2015, Anjali's husband lost his job; as a make-up artist for a television production company. This brought financial difficulties to the family, forcing her to look for a job. "I started looking for a job in the field I love – Teaching".
Her father's friend told her about Project WHY and the school they opened on the Yamuna farms. Anjali applied for a teacher position and she was appointed as a secondary teacher at our Yamuna center in 2015. "Project WHY gave wings to my dream – of being a teacher."
"Joining Project WHY has completely changed my life. It has given me confidence and courage to take decisions in my life. Teaching at Yamuna, seeing these very talented children has motivated me to work hard to support these children's education so that they have a better future".
---
Ashish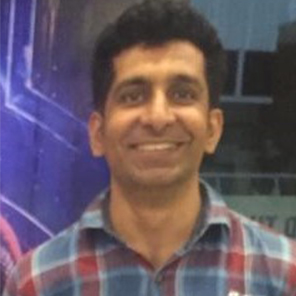 Project WHY provided me the space to be 'ME'. That allowed me to be creative with the children I supported and make learning fun for them".
Ashish joined Project WHY special needs programme on July 17, 2017. His family originally belongs to Madhya Pradesh. His parents moved to Delhi before his birth. His family shifted to Delhi as his father got a government posting in the city. He has three sisters and all of them are married. He is the only son of his parents.
Expectations are high being the only son in the family. He completed his graduation in Delhi in 2007. Along with his graduation he also completed a computer course for one year. He worked for four years at Maximize Financial Services at Govindpuri, Delhi. However, his heart was not in it completely, as he wanted to do something different.  His mother was very sensitive to his needs and knew him. "It was mother who told me about Project WHY and its work with underprivileged children. I came and met Ms. Rani Ma'am and even saw the special needs programme children. That is when I knew I can work with children and be happy".
By joining special needs programme at Project WHY was not only challenging to him but also rewarding. "I learnt how to handle aggressive behaviours as well as deal with very shy kids. I learnt that each one of them have unique ability that needs to be channelized. I feel glad to have this job and want to continue serving with the special children more".
---
Dilip Kumar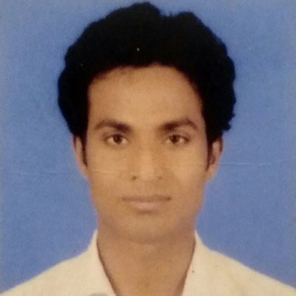 Dilip Kumar joined Project WHY in 2018. His family originally belongs to Uttar Pradesh. His father came to Delhi to earn a better living. His father is daily wage worker in a private company and mother is housewife.
While growing up, their financial situation at home was not stable. However, that did not stop Dilip to continue his pursuit to complete his education in Delhi. To pay his school fees he started taking tuitions for children who needed support.
Despite the financial struggle, Dilip completed his graduation in Bachelor of Arts in History with Honors from University of Delhi. He also completed his Masters in History (honour) from Indira Gandhi national Open University. He completed his B.ED from Maharishi Dayanand university of Haryana.   And is currently preparing for M.ED.
Before joining Project WHY, he worked in Sewarth Foundation as a teacher for 2years. After which it closed due to lack of funding. "To keep my financial situation afloat, I started taking tuition at his home for children in classes 8th to 12th".
He got to know about Project WHY from his friend Vijay, our computer teacher at Okhla. In Project WHY he started teaching to 8th standard but now he teaches till 12th standard students.
"I came to identify with Project WHY's vision of support underprivileged children's education". I like teaching at Project WHY Okhla, the purpose is greater and challenging than just teaching."
---
Dimple Kainth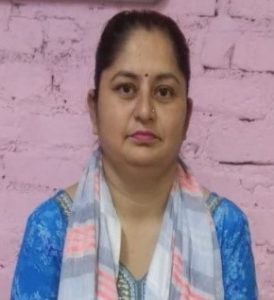 Sometimes all you need is a second chance because time wasn't ready for the first one. The second chance came in the form of Project WHY!!
Dimple Kainth is our resource person at the Okhla educational center since January 2016.
Her parents belong to Punjab- her father was a tailor and mother was a house wife. They came to Delhi to earn a better living. Dimple has five siblings. Her parents were all for education and enrolled their children in the nearby government school. While Dimple was in class 9 (in 1991) she started tuition classes for children in junior classes to earn extra income. This way she was able to pay her school fees. In 1995, Dimple completed her schooling.
She got married in April 1996 while she was doing her first year of Bachelors in Arts.  "Teaching was a skill that came to me easily. The children I taught while I was in high school, all did well in their school examinations. Taking that experience, I planned my career to become a teacher".
After marriage, Dimple could not continue her study as her in-laws did not allow her to go back to college. Life took over and she devoted her time to looking after her two children, her in-laws and home. In 2000, when her children started going to school, she had time on her hands. She again started tuition classes from home (after 4 years of marriage)
Her financial condition became weak as her husbands work was not doing too well. That propelled her to look for work outside her home. Through her friends she came to know about Project WHY. In 2016  she came to Okhla centre for an interview and was selected as a primary teacher at Project WHY.
"Second chances are rare in life. I am grateful to be given the opportunity to be a teacher at Project WHY. I have met and learnt from other teachers at Okhla." Dimple has become a captivating storyteller at our Okhla. Together with Sonia and Sophiya, teachers of primary classes, they regale the children with morale stories. Dimple's financial situation is slowly becoming stable.
---
GEETA Devi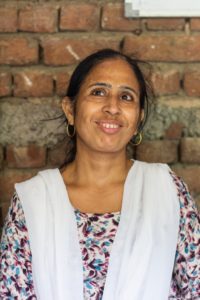 Geeta was born and brought up in Delhi. She got married at a very young age of 15 years. Currently, she lives in Madanpur Khadar with her husband. She has two sons – one is working as a Nurse and other is doing his Bachelors in Pharmacy.
Over the years, Geeta completed her Junior Basic Teaching (JBT) degree. "I have been passionate about teaching and have been looking for a teaching job but I was not successful in getting a teachers job."
In 2008, Geeta's family's financial condition was not very good and she need to find a job fast. Geeta came to know about Project WHY from one of the existing teachers at the Khader Centre who encouraged her to apply for a teachers position.
"I was skeptical at first, cause no one wanted to hire me as a teacher". Geeta applied for a teachers position and joined Project WHY in 2008. Initially, she joined as a teacher at our early education program – Crèche. As time passed, she gained confidence to teach the children at the Primary class level. Today, with 11 years' experience, she currently teaches the class 8 level students at our Khadar Center.
"I would never have been a teacher, if not for Project WHY. They believed in my passion, my abilities and made my dreams come true." After joining Project WHY, Geeta's could financial contribute to her family's expenses. "Project WHY is my sole earning avenue. Working here has given me both financial and mental satisfaction".
---
HIMANI JAWA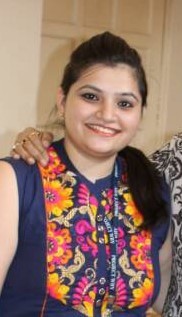 Himani Jawa joined Project WHY in 2012 as a primary teacher after just completing her schooling. She belongs to a Punjabi joint family that has been living in Govindpuri, Delhi. Her father is a shopkeeper and mother is a housewife. She is the first in her family to complete higher education. Her dream was to become an English teacher.
In pursuit of her dream, Himani applied for a teacher's position at Project WHY Govindpuri. After clearing the interview, she joined Project WHY as a primary teacher in September 2012. Himani's love for education and teaching is clearly seen in the way she conducts her classes. "I believe that to truly value education, we must reflect it in our attitude and behaviour. I hope that through my outlook I would be able to inspire the students of my community and make their future brighter".
Through the years, while working at Project WHY, Himani completed her Bachelors in Education and Masters in English. She has always found ways to improve the quality of education for her students. She teaches with real life examples so that her students can understand and relate. Besides their school syllabus she teaches them moral values, art and craft, general knowledge and the importance of education. "The best part of my day is conversing with my students in English. I want them to be confident in spoken English when they speak to either private going school students or with foreigner volunteers".
Himani's success with primary students, gave her the confidence to now teach our secondary level government school children at the Govindpuri after-school support programme. "Working at Project WHY, I made an identity for myself as a teacher". Through her support students have secured top positions in their government school.
---
Kiran –  A Ray of Light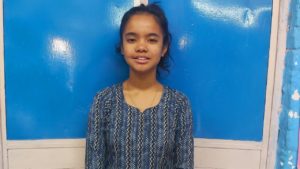 "I grew up in Project WHY, be it playing with the special needs children, volunteering and now, being part of transforming their lives by teaching them". Kiran's story is intertwined with the growth of Project WHY itself. It's a story about giving a chance and seeing purpose in one's own life.
Kiran was born just when Project WHY's field programme began in 2000. "I grew up alongside Project WHY". Though Kiran is not a 'direct' beneficiary of Project WHY, her young life is indubitable proof of the fact that Project WHY has serendipitously transformed the lives of many.
Kiran comes from a lower middle class family. Her family is originally from Nepal but for past two generations have been living in Delhi. Her father is a graduate and was having difficulty in finding a job. In 2001, Project WHY gave him an opportunity to teach Mathematics to our higher secondary classes. From thereon, Kiran's life was connected to Project WHY.
Change does not come easy. However, as Kiran spent time at Project WHY, we could surreptitiously intervene in her upbringing – be it in matters of hygiene, nutrition or even her education. Again, it was all about setting examples.
She is an exceptional child in more ways than one and has often delighted us with her own brand of logic: be it her own type of English or her little pearls of wisdom. Kiran spent the first few years of her life either being carried around by our Founder and CEO Anouradha Bakshi, or playing with the kids of the special section which she somehow preferred to the creche! "A sense of belonging developed as I spent my more time at Project WHY as a volunteer during my holidays".
As years passed, her family with the influence of her aunty – Rani Bhardwaj – were adamant to send her to a "good" English medium school. Kiran was our lens to the public education system in India. We got to know the nightmare of getting admissions and the gaps in public school education. This led to changing our focus/ mission at Project WHY.
Kiran attended an upscale school as her humble family felt that it would open new doors for her. " I realised and learnt about the societal divides – rich versus poor – that exists in our society. I use to talk about it to Anou ma'am and my aunt." But Kiran never felt the need to alienate one life for the other. She is equally at ease with the kids in her urban slum street as she is with her well to-do school pals. She transitions comfortably from a loud Hindi slang, to barely audible English, to sign language when communicating with her special needs friends.
Kiran is the answer and proof of the many apprehensions voiced by our well-wishers and supporters regarding how to break social barriers. She is our model to other children in her street. We at Project WHY are reasonably certain that Kiran and any other child who are given a chance, will be an asset and not a liability to our society. Unless and until we give a reasonable chance to them, like Kiran, we will never know the courage and determination of each child to make a difference in the world today.
Kiran has completed her Class XII examination and is currently enrolled for the Bachelors course in English at the Indira Gandhi National Open University (IGNOU). She is also working as an English teacher (secondary class level) at Project WHY Okhla to develop her teaching skills.
---
MADHURI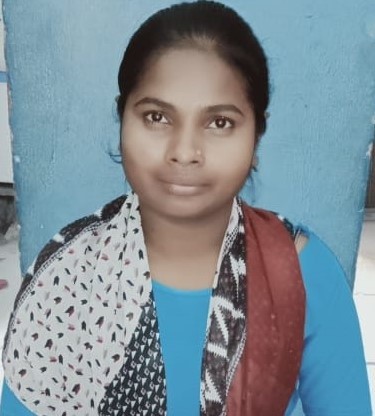 "I was inspired by Project WHY teachers to be a teacher".
Madhuri joined Project WHY in August 2019. She is currently enrolled in the Under-graduation program of Delhi University. Her parents have been living in Okhla Ph-1 (very close to the Okhla educational center) for the past 30 years. Her family originally came to Delhi from Bihar to earn a better living. She has three brothers. They all are currently studying at the Government school.
Madhuri has been associated with Project WHY Okhla educational center since she was a student of class 3 (since 2009) and completed her class 12 with the support of Project WHY.
"It was hard studying in school. Looking back, I began to read and understand my class lessons at Project WHY. The thing is that in our government school, there is about 50 children for one teacher, so it is not possible to always clear one's doubts. Also, the teachers at the government school only explain once. They are sometimes rude and scary. Teachers at Project WHY explain until we understood. They are polite and teach us easy method."
"It was coming to Project WHY, that made me decide, I wanted to become a teacher. The teachers at Okhla Center inspired me when I was growing up. I wanted to do the same for my community children as they do not get the same support in their Government school."
Currently, Madhuri teachers class 1 and 2.
---
MAMTA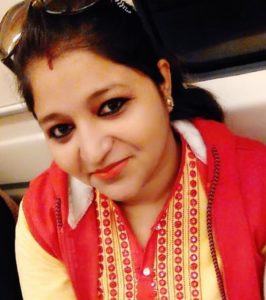 "Early years matter in developing a strong base for a child to be a lifelong learner"
Mamta Kaushal joined Project WHY in 2012 at our Creche –Early Education Programme. Mamta is an inspiration to many young women, to pursued their passion – that is teaching toddlers while making time for her twins as well as single handedly bearing the household expenses.
As a crèche teacher, Mamta believed that the child's early years is the foundation for their future development. Providing a strong base for lifelong learning – including learning abilities, cognitive and social development was very important.
Over the seven years, Mamta learnt on the job. Knowing that the slum kids needed the extra support in the early development areas of a child, she improved her own skill set – art and craft as well as story creation medium through research on the net. She wanted to make learning Fun and Colorful. "Along with my crèche teachers, we have painted the classroom and have created a whole curriculum that is aimed at giving toddlers the right to childhood in a safe and secure environment to learn". The programme she heads is designed to enable the child to develop social skills and take the first step towards collective living. The entire curriculum is designed to engage children in learning through play while building their independence.
Mamta also has come to know the importance of building partnerships with parents to ensure her students' important milestones such as potty training and other child's needs are reached. She celebrated her children's milestone at their graduation and ensures that they all have been admitted to the nearby government school so that they continue their learning process.
---
Md. Israil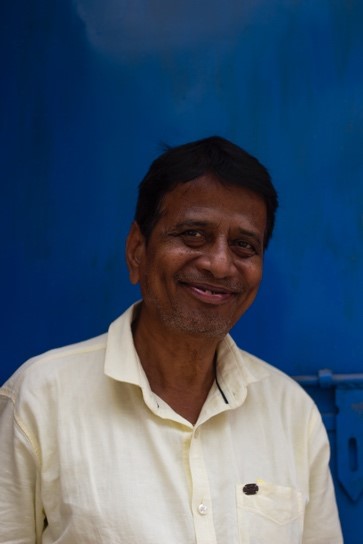 Israil sir as his students call him, joined Project WHY in 2005 as a primary teacher. His family originally belonged to Ranchi, Jharkhand and came to Delhi for better job opportunities. He is married and has two sons and a daughter. They live with him in Giri Nagar, New Delhi.
"I have come to believe that education is the key to open doors to what you want to do in your life". Prior to joining Project WHY, he worked for 12 years in an Export company in the Okhla Industrial Area as a helper, till he fell sick and had to resign.
"Whatever I was able to save from my work at the factory, went into my hospital bills". To further meet his health expenses as well as meet the education cost of his children, he looked for a teaching job close to where he was living. He came to know about Project WHY from his neighbour.
"Project WHY gave me a second purpose in life. If it wasn't for Project WHY, I would have been unemployed and my children's education would have suffered." Working at Project WHY, Israil's health improved and all his children completed their schooling.
"I like teaching. I taught all my children and they have completed their schooling and pursuing higher education. Project WHY is just an extension of my home, so my teaching skills just extended from my home to the community." Israil himself is always in a learning mode and is found experimenting on different learning aids at Project WHY– flash cards, drawing, and story -telling to inspire his students.
"Over the years, I have learnt that each child is different and I have to work at their level of understanding. If I can simplify the lessons or concepts for the child, I have achieved my goal".
At Project WHY, Israil continues his passion to teach migrant worker's children. "I feel happy working at Project WHY and being part of the vision of making children's future bright."
---
Mithu – Never Say Never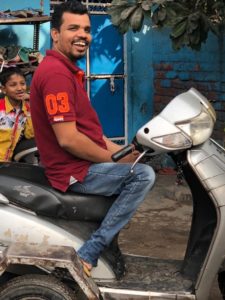 Mithu was born with a physical handicap and is unable to use his legs. He moved to Okhla in 1996 together with his aunt and his elder brother, leaving behind his younger brother and his parents in West Bengal.
Given his disabilities, his aunt had low hopes for him. He was sent to a Government school for two hours a day and given no further tuition or help. "The school was crowded and I felt lost without any support towards my education. Also, the school had no facilities for children with disabilities, or any special aid teachers".
Sophia, a teacher at the Project WHY Okhla Centre, met Mithu one day in 2002 and encouraged him to begin studying at Project WHY. By this point, he was in Class 10, and had some serious catching up to do. By giving him the care, attention and support that he needed, he successfully passed his exams for the first time that year.
Mithu continued studying and volunteering his time at Project WHY Okhla. When our generous donors provided a set of computers to our Okhla Centre, Mithu immediately took a liking to them. "Looking at these machines gave me inspiration. That was the day I found my passion". We started a basic computer course with part-time volunteers. Mithu proved to be one of our most capable students. "I found myself making designs, playing, tinkering with the computers for long hours every day and under the guidance of the volunteers. I would read up many guide books, watch YouTube videos and then experiment with the computers."
By 2005, Mithu was ready to take up a role as our full-time computer teacher. He had picked up the necessary skills and was able to interact with students and teachers alike. With IT skills now an essential part of a student's skillset in India, we started our in-house IT course. "This course is essential for children at Okhla. When they go elsewhere it is very expensive. At Project WHY it is free". Mithu now teaches over 40 students, conveying skills of design, text-editing and basic programming to the students. He is a great role model to the children to on grabbing the opportunity given and make the best us of it.
"Along with teaching computers to children at Project WHY, I have gained independence and self-respect, which I never envisaged while studying in Delhi". Mithu lives alone and has bought himself a modified scooter, which he rides to work. "Here I do not even think of my disability. I climb trees—it is a normal thing for me. I play sports: cricket, football, marbles, gilli danda, I love them all. Main khush rahta hoon."
---
Naresh Sir, with Love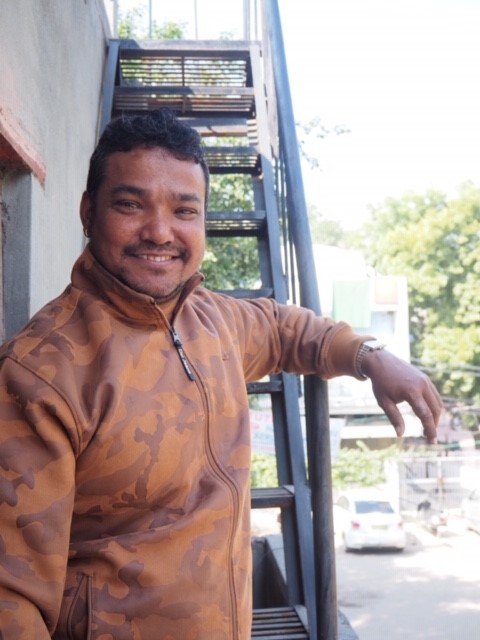 Project WHY's very own Naresh Sir, with Love Naresh Bhardwaj is a stellar Mathematics teacher who can make any child excel.
Project WHY opened its first spoken English class for secondary students in 2001 in Giri Nagar, New Delhi. It was the same time that Naresh had just completed his Bachelor's degree in Arts and was looking for a job. He loved to teach, and to fulfill this passion he was giving tuitions to the neighborhood children, often for free. But in a poor home, one cannot afford to dream, for dreams do not put food on the table. Naresh tried his hand at various jobs, even as a vendor in a shoe shop, which just lasted two-days. His heart was not in it.
One day, in November 2001, a Class Xth student Aadarsh came to class with large welts on his arms. He had been brutally beaten in the government school he attended. Corporal punishment still prevails in many Indian schools despite a law against it. Project WHY resource persons visited the government school. The experience was Dickensian. The headmaster kept whirling the stick in his hand to make his point. The boy and other Project WHY students were humiliated. The boys were called guttersnipes and the Principal contemptuously informed that these boys would never pass their Class Xth Board Examinations (a state level examination).
Project WHY took up the challenge of providing these boys with support to clear their Class Xth examination. With no funds, no space and no teacher to take this forward, Project WHY was in need of a miracle to get a bunch of lads ready for an exam in two short months.
A miracle came in the form of Naresh, who happened to be the elder brother of a teacher, Rani. He had just finished his degree and was looking for a job in the Giri Nagar area, where Project WHY started. The only space available was the dusty pavement in front of the Project Why Center. The time available to tutor the students was between 7.30am to 9.30 am in the morning before they went to school. Every morning ten students assembled in front of the center, some mats were laid out and Naresh and his boys sat in a circle to study. The cold was kept at bay by cups of tea graciously offered by Naresh's family.
That year, the challenge was won. The boys cleared their Class Xth examinations and this marked the beginning of Project WHY's secondary outreach programme. Since then, Naresh has single-handedly ensured the success of hundreds of boys and girls who have successfully cleared their Board exams. Since then, Project WHY has had 15 batches of secondary students, all of whom have cleared their Board examinations and secured jobs. The boy with the welts is now father of a little boy and all set to emigrate to Australia after having completed his higher education.
To Naresh, teaching a student is a mission he cannot fail. When exams approach, he schedules extra classes and teaches at the crack of dawn or late into the night. This is quite a feat for someone who likes a morning lie-in and a late session with his pals! On exam days, he is as nervous as his students, if not more, and waits for their return so he can find out how it all went. Come results day, his nails are bitten to the base as he scours the internet, his students in tow.
Recently, when he went visited the Project Why Okhla Center and found out that the senior secondary students were in need of some extra tutoring, he rescheduled his timetable and took them under his wings. "I wished that there had been a Project WHY when I was growing up".
---
NEELAM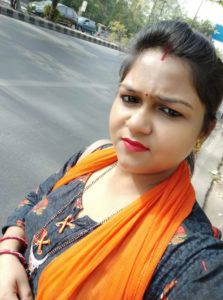 "Project WHY, has helped in identifying my passion – that is teaching young children"
Neelam joined Project WHY since 2017 as a teacher for our early education programme – Crèche. Her family hails from Utter Pradesh and came to Delhi to earn a better living. She lives with her husband, father in law and two children. Her son is in Class 9 and daughter is in Class 2, both studying in Government School.
Her family could not pay the additional expenses of the children's school fees, which propelled Neelam to look for a job close to where she lived. Her neighbour told her about Project WHY.
Initially, Neelam had no experience of teaching. "I like learning new things and being with children". She was a quick learner and she picked up methods of teaching toddlers, how to keep them involved and interested with the help of her colleagues. She discovered that she was able to not only support in the learning process, but also had an aptitude for art-n- craft, rhymes and dancing.
"I really have come to appreciate and love working at Project WHY". Conducting survey for new students within the Okhla community really affected Neelam, to see first-hand the poor living conditions of the children's families. "The people of Okhla community cannot afford a balance diet for their child, how can they pay for crèche services". The fact that Project WHY is free, that is why they are willing to send their children to us and value it." #GoodTeacher
Before joining Project WHY, Neelam's husband was the sole earning member of the family. Working at Project WHY, Neelam also started contributing to the family's expenses. She pays for her children's school fees. By this she has brought a little change to her family. #WomenEmpowerment
Neelam has seen many children graduate from the early education programme and subsequently join Project WHY's after –school support programme. "Project WHY has not only helped me financially, but it has helped in identifying my passion. It has provided me a friendly environment to fulfil my personal dreams."
---
Neha Kumari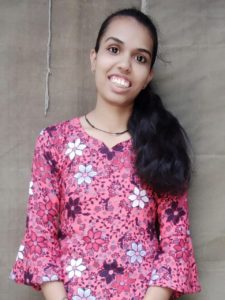 Neha was a former Project WHY student.
Neha's family originally belonged to Bihar. Initially, her father shifted to Delhi in 2001 to earn a better living. There are five members in her family – father, mother, two brothers and herself. Her father works at a private company and her mother is a housewife. Her family does not give too much importance to the education of girls. Also, her father always celebrated her brother's birthday with great joy and happiness but he rarely celebrate Neha's birthday till date.
In July 2010, Neha came to Delhi with her Mother. At that time, the admissions in all the Government schools were closed. She came to know of Project WHY from her neighbours. She joined Project WHY and completed her class 8 at the Khader center. In the next academic session, after an entrance exam, she got admission in class 8 at the Government school.
She studied at Project WHY Khader at the after-school education support programme till class 12. After 12th she wanted to do her under-graduation. However, her father didn't allow her. He did not give her money for admission. "I did not give up on my dreams even then. When an opportunity to teach at the Project WHY Khader center came about I applied." After class 12th, Neha joined Project WHY on October 2016 as a primary class 5 teacher as well as a craft teacher.
"My father changed his views about girls after he came to know that I was earning a living while teaching at Project WHY." Neha's father then gave her permission to complete her graduation. In 2019, Neha completed her NPTT (Nursery Primary Teacher Training), Computer Diploma and currently is pursuing B.A. Final year. "I love teaching and spending time with young children. Apart from the academic support that I provide, I specially talk to all my girl students to study hard and dream big".
"Project WHY changed my life and that of my family. They gave me the opportunity to reach my goals and improved my financial condition". Neha love for art also got expression at the Project WHY Khader Educational Centre. She encourages her students to paint the walls of the center so that they feel a sense of belonging. She makes all the decorations for various celebrations and festivities enjoyed at the Center.
---
NIKITA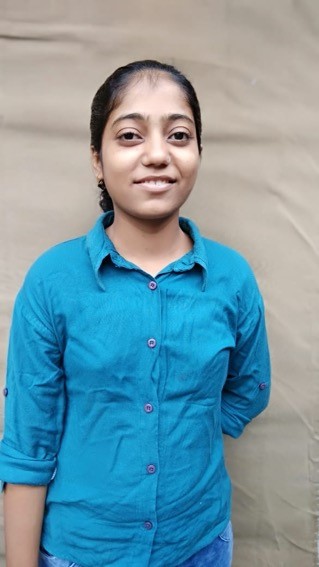 Nikita is born and brought up in Delhi. Her family resides in Madanpur Khadar. Both her parents have completed schooling. She has two younger brothers who are currently pursuing L.L.B. Her father is a milk vendor while her mother is a housewife.
When Nikita was studying in class 10, she desperately needed after-school support for her studies. Due to curriculum changes and studying in D.A.V. Public school which was in English Medium; her parents could not support her. At that time, her mother got to know about Project WHY and Nitika joined as a student.
After Nikita completed her class 12. Her father was against her continuing higher studies. "Even after Project WHY members explained to my father, he did not agree to send me to college". However, Nitika's father was willing for her to come and work at Project WHY. Hence, in 2016, Nitika joined as a primary teacher at the Khader educational center.
"Joining Project WHY gave me an avenue to pursue my dream – of a higher education." After joining Project WHY, Nitika completed her NPTT (Nursery Primary Teacher Training) and got a Computer Diploma. She is currently pursuing her Bachelor's of Commerce (B.Com) 2nd year from IGNOU (Indira Gandhi National Open University). "The passion towards education was ignited by Project WHY, and I want to do the same with all the children at Khader Center so that I can bring out their individual talents".
Nikita teaches our Class 4 students at Project WHY Khadar center. With her experience and flare for writing, she also took on the role of documentation -in-charge for Khadar and Yamuna education Centers. "It is being at Project WHY that I could achieve my goals as well as have an income. Project WHY has always supported me in the time of need and I hope that I can be of service to the children and the centers."
---
Pushpa – A True leader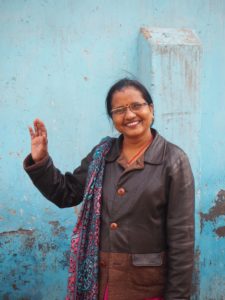 Pushpa is an incredible woman of substance and yet nothing about this diminutive, ever-smiling woman reveals her indomitable strength. She is one of the many leaders that brought Project WHY to life.
Pushpa came to Project WHY 15 years ago looking for an opening as a teacher. Despite being a mother of two small children; she wanted to do something for herself and her community. She along with Sophiya, her close friend, enumerated about the plight of Okhla children, the area where she resided, and how they were targets of multiple predators looking for easy prey. There was no school in the area and no organisation that could care for them. Pushpa with Sophiya took on the goliath task of finding a way to start an educational centre, after getting a nod from Anou Maam (the Founder) to help these children. The area in question was an industrial one, with factories and small slum clusters tucked in between.
"In the beginning, we started classes in Sophiyaji's house in the morning and set out during lunch time to look for suitable place where we can open a center". A few weeks later they both declared that they had found a 'place' which was a dump yard close to the railway tracts. We could not see how it could be transformed into anything close to a children's education centre, but Pushpa assured that it was possible and that all it needed was a little 'sprucing' up! "We could not just start a center in Okhla. With Sophiyaji, we met the local stationed police and local politicians to obtain permission to 'use' the space. We organized trucks to remove the existing garbage, brought in earth to level the ground and we put up a tent of a few bamboo sticks with some blue plastic sheets. From then on our work began– the Project WHY Okhla Centre.
What ensued was a battle of wits between the local baddies and the two strong ladies. Every weekend the fragile structure was broken down and ever Monday the two ladies would erect it again till the day when the breaking stopped. They had won the war!
Today, the Okhla centre is a beautiful space. It reaches out to over 350 children and employs 12 teachers from the community. It has primary and secondary classes and a computer centre too! "No one can imagine the trials and tribulations we went through from cleaning 'poop and puke' to standing up to the local goons".
Pushpa has never lost her smile even when faced with the biggest adversity. She runs her center with determination and pride and epitomises what Project WHY stands for, in all the ways that count. Pushpa has truly given wings to many dreams and Project WHY.
---
Renu – From Student to Teacher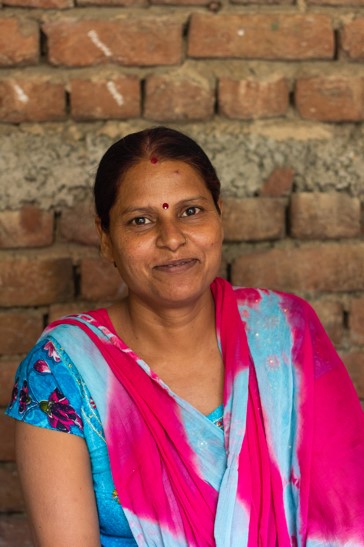 Renu and her family came to Delhi from Aligarh, Uttar Pradesh in 1998 and moved into her own house in Faridabad, Haryana. In 2004, her house got robbed and in the same year her husband met with the accident. She was forced to take a loan for his treatment and subsequent hospital charges. The marriage of her husband's brother further plunged the family in deep debt, a problem faced by many Indians who are unable to maintain liquidity for emergency expenses.
In order to pay back the debt, Renu sold her house in Faridabad and moved to Madanpur Khadar, Delhi in a rented apartment. Renu needed a job as her husband was unable to work after his accident. She got to know about Project WHY's skill building programme through her neighbour.
Keen to start earning, Renu was immediately attracted to the idea of developing a new skill and signed-up for Project WHY stitching classes in the evening at Khader Centre in 2007. As she completed her course she began doing small jobs for her friends and neighbours to earn a bit of money.
Though she was moving forward, she still had debts to pay back, put food on the table everyday and be able to afford to send her children to school. "My dream was to provide a good education for my children and be able to wipe all the debt of my family".
In 2010 the Khader Women's Skill building programme lost its only stitching teacher. Project WHY, saw Renu's progress over the years and felt that she could carry out the task. Renu was offered the position of teaching sewing to the ladies. Initially, I was very scared and not confident that I would be able to fulfil the job properly."
As time passed, Renu started gaining more self- confidence, guiding young women from her own neighbourhood in a skill that she was passionate about – Stitching. She met new people who visited the Okhla centre and the women skill building programme such as international volunteers, foreign donors and friends. She learnt to communicate with them and made new friends among her peers.
"Seeing the friendly atmosphere around the Khader center as well as the support Project WHY gave to slum children in the area; I decided to include my two children in the after -school educational programme". At that time her children were going to the nearby government school; in the hope to fulfil her dream.
Today, after 9 years teaching at Khader Center; she trains about 80 women and girls every year. Her son is in third year of college and her daughter is currently in class 9.
She has a clear financial strategy to pay back her debts as well as to support her family. "For the first time, I feel secure and self-worth. I hope to give the same to others women through my teaching.
---
Ritu Singh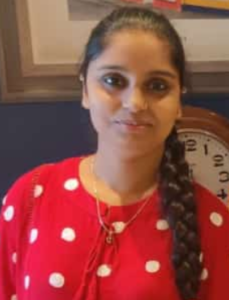 "Project WHY encourages and has strengthen my abilities. I began as a student at Project WHY in mathematics which enabled me to apply it in my higher education. Now it is time to spread the support I received to others".
Ritu Singh joined Khader educational center as a primary level resource person in 2011. She lives in Govindpuri, New Delhi since her childhood. Her family originally belongs from Uttar Pradesh. Her mother is a housewife and father is manufacturer at a cosmetic company. She has two sisters and a younger brother.
Ritu completed her schooling from Rajkiya Sarvodaya Kanya Vidyalaya. "While studying in school, some volunteers came to the area where I lived and spoke of Project WHY and its work in 2002. My parents enrolled me in Project WHY when I was in class 6. Once in class 7,  I continued at Project WHY Giri Nagar for just Mathematics classes as I was very weak in the subject."
She completed her schooling in 2010  and went on to complete her Bachelor's of commerce (BCom) and Masters in commerce (MCom) from Delhi University (2015). While perusing her bachalors she also did one year of accountancy.  All along her bachalors she stayed in touch with Project WHY. "I came attended Project WHY in my second year of bachalors to seek help in mathematics. It was place where the teachers knew my strengths and weaknesses. They helped me very much".
As I became stronger in my educational field, I was sure that Project WHY was a place where I can be the most productive. I broached Rani Ma'am and Naresh Sir to give me an opportunity to share the learnings with the children. Ritu joined the Khader educational center in 2011 teaching primary children all the subjects.
As the years progressed, Project WHY's inception center – Giri Nagar Educational Center – needed an in-charge. Ritu was an obvious choice as she started as a student at the center. "Through these years, I have come to know Project WHY, to be not just a space for supporting underprivileged children with their education. It is a safe space to build your strength, know your weaknesses and gain confidence to tackle anything . By giving me the opportunity to be an in-charge of Giri Nagar center gave me immense confidence in my ability to be a guide to children and influence their learning outcome."
Ritu is the Project WHY Giri Nagar in-charge and teaches Social science till class 10.
---
Roshan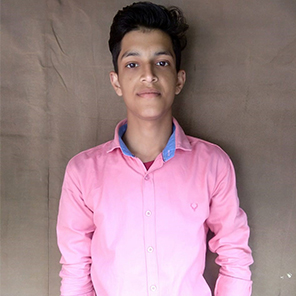 Roshan's family belongs to Bihar. His family includes his father, mother, three brothers, and two sisters. Roshan is the youngest.
Roshan's family came to Delhi 2009 for better work opportunities and a good education of their children. His family believes in good education  as a priority. "It was very important to both my parents that we children got a good education". When his family came to Delhi they took admission in Government school. However, they soon had to get some help for Roshan and his siblings as the education system was not very good.
After some years, Roshan's father who worked at an export company got ill and had to leave the job. His mother is a housewife. This creates a lot of problem in their daily life as Roshan's father was the only source of income in the family.
His parents did not stop sending the children to the government school. With Roshans father not having a steady job, they could not afford tuition. Roshan's father met Geeta Devi, a teacher at the Project WHY Khader Educational center who told them about Project WHY free education support. All Roshan's brothers and the sisters joined Project WHY as students in 2007.
Once his brother completed their schooling they got good jobs.  One of Roshan's brother is an employee with Axis Bank and other one is an employee in Medi-Assist. Roshan too completed his schooling with the help of Project WHY's support. He had to start working soon so that he could saves up for college.
"I am grateful for Project WHY to give me the opportunity to work, and earn so that I can save up to apply for mechanical engineering college. In the interim, I am doing what I know best, teach what I have been taught in the same environment and to the kids of my community. I know what difficulties they face as I have had the same difficulties. I understand each one of them".
Roshan currently teachers the primary class at Khader since 2020. Alongside he is taking coaching classes for his entrance to engineering college.
---
SAPNA SHARMA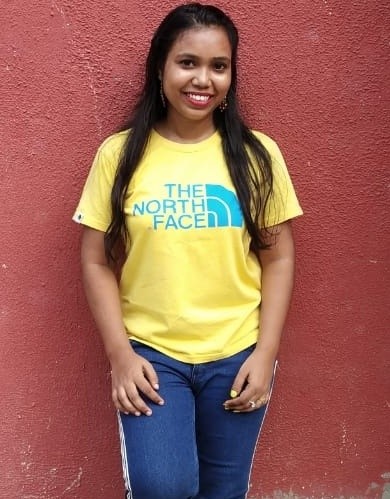 "Education for girls is important but we also need spaces to fulfil our aspirations, a place where passion finds expression. That place for me is Project WHY"
Sapna's family hails from Bihar. After Sapna's birth her family shifted to Delhi. Sapna has three sisters. Her father completed his class 10th and currently owns a welding shop while her mother is a housewife.
Sapna came to know about Project WHY from her sisters. "The fact that Project WHY's programme was free, was a well known within the Khader community. I completed my graduation in 2017. While I was studying, my older sister Shivani, was attending Project WHY's cyber (computer) programme at Khader. Even my younger sister Khushi attends the after-school programme."
After graduation, Sapna wanted to join Project WHY as a teacher. But, her mother was against girls having jobs as she feared the environment might not be good for young girls. "My sisters came to my support. They explained to my mother on what Project WHY does in promoting girl-child education and the safe environment spaces for women".
Sapna was given permission to apply to Project WHY as a teacher. "That was the happiest day of my life". Sapna joined Project WHY in 2017 as a primary teacher for classes 1 and 2. Currently, she is teaching secondary class, that is class 6 at Khadar educational center.
"I like teaching at Project WHY. It has challenged my teaching abilities. At Project WHY, I have also found an expression of my passion, that is, teaching dancing to the children".
Sapna teaches dance to the Khader children. All the dance performance for festivals or celebrations by the children are often choreographed by her. Through dance, the children express themselves freely and have fun.
"Project WHY spaces go beyond just academic support, to include dance, music, art, caring for the environment, respect and love. We try to give our students a learning environment where they can learn as well as have fun".
---
Sabrun Nisha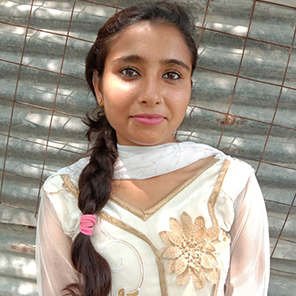 "There are many reasons why a person decides to enter the teaching field. Some enter because they enjoy working with people or children, and still others because of their love for a subject. Although all these reasons are valid, I feel my reasons are much simpler. My desire to make learning a more positive experience for children has only increased with time".
Sabrun family belongs to the northern state of Uttar Pradesh, India. Her family shifted to Delhi when she was very small for better work. Her father works as a daily labor and her mother is working in Goonj (a not-for profit organisation) as a worker. Sabrun has two younger sisters. Her family currently lives in Madanpur Khadar.
Her parents had enrolled Sabrun and her sisters in the local government school. Her mother saw that Sabrun was not performing well in school. At that time, Sabrun was in class 2.  Her neighbors told her mother about Project WHY education center being free and hence, her mother enroll all her sisters at Project WHY Khader center in 2008.
"The interest that Project WHY teachers took in facilitating and supporting my learning experience was something I grew to cherish. I could ask any question and it would be answered which gave me such joy. I wanted there and then create that same feeling in other children so that their inquisitiveness lives on."  Sabrun completed her class 10th with the support of Project WHY. She has also completed her class 12 and is currently persuing her graduation (B.A.) 2nd year.
Alongside her studies, Sabrun teaches the nursery class children at the Yamuna center. She joined Project WHY in 2018. Sabrun likes to teach in Project WHY because it's a safe place where she can improve her skills. "I am drawn to children's eagerness to learn, their trusting nature, and their inquisitive minds. It has always been a joy for me to be around children, who are eager to learn. Children are thrilled when an adult takes time to read to them. My decision to become a teacher is based on my enjoyment of working with children, and my personal desire to make learning a positive experience for children. Working at Project WHY is also a chance to give back all the time and work that has been invested in me. I get a lot of satisfaction and love from the children I teach. I feel that I can make a difference in somebody's life".
---
INCREDIBLE SEEMA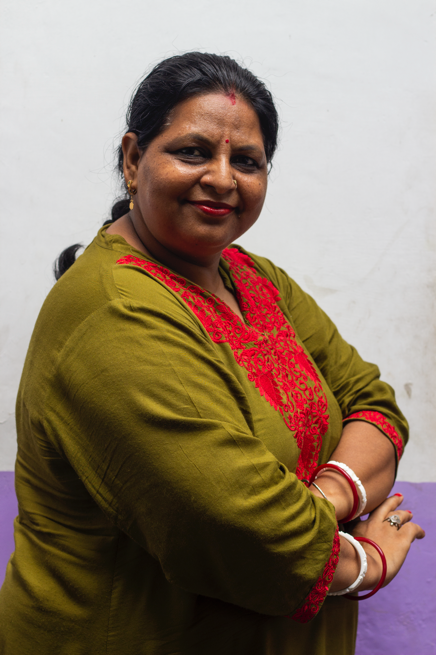 At Project WHY, women are naturally at the front and center of most of the activities. One such power packed woman is Seema. She wears her heart on her sleeve, a big smile on her face and comes across to all as a large-hearted "Momma".
Coming from a middle-class background and the only child of her parents, Seema was smothered with love throughout her life. Originally from Bihar, Seema's father used to work at a flour mill shop but is now retired. Seema got married 26 years ago to a man her parents chose when she was just 14 years old. She had her first child when she was 17 years old.
But despite all the smiles and cheer, things were not always easy at home. She now has three children of her own and her husband, a repairman, does not earn enough to make ends meet. So, Seema had to leave her cocoon at home to find work.
At the time, in 2003, Project WHY was looking for a crèche teacher. Seema was the perfect fit. Seema took to being the crèche teacher like a fish to water. She loves children and they love her too. Discipline is better left to others; she wants to spread joy and cheer. Completely unconscious of her imposing personality, she jumps, runs and dances with abandon with all the children. "I cannot help it, with children around I become one of them". Nothing stops her from having fun with the children.
Seema's very warm disposition finds favor everywhere, and she's adored within the Govindpuri community and by all the local authorities. This gives her the power to conjure the seemingly impossible – from getting a meeting hall for free for our annual day show, to admission for a child at the local school. All she needs to do is ask in her inimitable style.
Seema loves learning new things and will register eagerly for any new course available in the vicinity: a creative art course, a course on recycling waste, a beauty parlor course. "Joining Project WHY gave me immense confidence; to meet and greet people as well as get work done for the Center".
Everyone at Project WHY loves Seema, for her good cheer and her ability to get things done. When one of her initiatives is successful, the staff greets her with "Jai Ho Seema!" She is currently the Govindpuri Centre in-charge and takes her duties of teacher's attendance, child safety, and ensuring that the centre runs seamlessly very seriously. We frequently still find her back with the crèche children, either to help or start the children's day with cheer and fun!
---
SEEMA SHARMA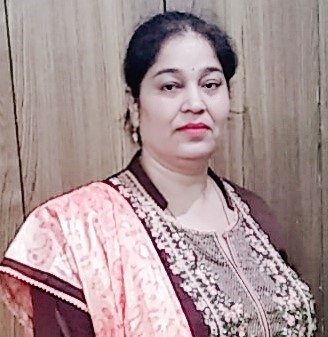 "The desire to do more led me to Project WHY".
Seema Sharma joined Project WHY on May 1st, 2018. Her family originally belonged from Punjab. When she was only 2 years old she lost her father. Her mother single handedly brought up her and her siblings.
"My Mother was my role model. She worked hard and while giving us an education showed us the value of it."
After completing her schooling, Seema joined a private school as a primary teacher in 1995. While teaching she completed her Bachelor of Arts in Punjab. She got married and migrated to Delhi, where her husband lived and worked. She has a son who is currently studying in class 12.
When her husband passed away in 2011, she had to support the family. She applied for a teaching job in serval schools, but her degree was not recognised. She finally got a job with the Lal Bahadur Shastri Non-governmental organisation (NGO) as an administrator. She decided to do a diploma Nursery Teachers Training (NTT) in 2013.
"I wanted to get back to teaching – my first passion." Her friend told her about Project WHY education center in Okhla. Seema applied at Project WHY and joined as a teacher for class 5 at the Okhla Centre.
"Project WHY gave me the opportunity to be a teacher again. It was like going back to my old stomping grounds. I was back to what I do best – Teaching. Meeting teachers like Seeta Mahata and Sophiyaji, gave me great motivation to stretch and experiment with my teaching abilities. Along with supporting the children's education, we sing, exercise and even tell stories through puppetry".
The children of Okhla love Seema's classes especially her animated story telling.
---
SEETA MAHATA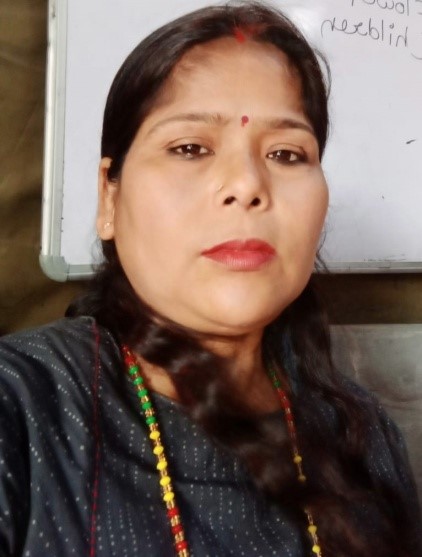 "I believe that each child learns differently. So, we teachers have to adapt and adopt different methods to support a child's learning process".
Seeta Mahata joined Project WHY on May 11, 2011. She did her post graduation from Allahabad University. Her parents have been living in Allahabad since 1952. They had shifted from Nepal to earn a better living.
Seeta came to Delhi after her marriage. She currently lives with her in-laws, husband and two sons in rental home at Govindpuri. Both her sons study in the nearby Government school. Having to support a large family, Seeta was looking for a teaching job. "Teaching is my passion", she confesses. She came to know about Project WHY from her sister-in-law who was living in Govindpuri.
Seeta was willing to teach different ages of children – On joining Project WHY, she supported the special needs education programme at the Govindpuri Centre. She later shifted to teaching at the early education programme – Crèche. She taught our toddlers for two years. "That was when I started to observe children's interest and response to story-telling as a learning tool".
When the need for a teacher at Okhla after-school programme came about, Seeta volunteered to be shifted and taught the children in the primary classes. Seeta took this experience of storytelling and added hand puppets to further engage the young minds. "I believe that each child learns differently. So, we teachers have to adapt and adopt different methods to support a child's learning process". Currently, with her experience and education, she is teaching our secondary student at Okhla since 2018.
"I really feel proud to be part of Project WHY and be given the opportunity to teaching children who are in need of educational support and cannot afford to pay for additional tuitions due to their financial condition. Here, at Project WHY educational Centers, they receive free of cost education support. They don't have to pay even a single penny." Seeta's passion goes beyond academics too. She also teaches her students dance and prepares them for performance during festivals or celebrations such as Independence and Republic day.
---
SHANTA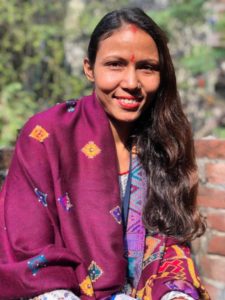 Shanta's family originally belongs to Nepal. They shifted to Delhi, India to earn a better living. Her father is a Security Guard. She used to live in Nepal with her mother. When Shanta completed her class 10, her parents got her married to Deepak Kumar who lived in Delhi. He was a private worker in a company. Shanta has two children – Gaytri studying in class 7 and Arjun studying in class 5.
Shanta came to know about Project WHY's skill building programme from her neighbour in 2012 . She joined as a student of the beautician course. After completing the course, she worked in a beauty-parlour for 15 months but faced many problems as at that time her children were very small.
In 2015, the beautician teacher at Project WHY informed Shanta that she was leaving her job as their family was migrating. Shanta's passion and desire to be financially independent drove her to apply and she joined Project WHY that year.
"Project WHY gave me the space where I could continue my passion of beauty. I got the freedom to make the course curriculum and support young women from the Khader community who had similar aspirations". Shanta had to keep up with the current products in the market plus be sensitive to the community's financial position. She has guided many young women towards using natural as well as the right beauty products. It is her teaching methods and friendly attitude that has brought in many young women to choose and learn to be a beautician.
Everything was going right till February 2019, when she suddenly lost her husband in an accident. "Project WHY's support has always been with me; even in times of great difficulty". The work I do at Project WHY is my sole earning now – for my children and me. Shanta continues to train young women in the community through our skill building programme and emphasises the importance of being financially independent.
---
Sehroonisha – Breaking Barriers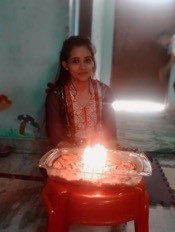 Muslim women are among the most educationally disenfranchised, economically vulnerable, and politically marginalized group in India. Their poor socio-economic status reflects a lack of social opportunity that, though not a feature exclusive to Muslim women, is exacerbated by their marginal status within an overall context for most Indian women.
Muslim women in India have a low literacy rate compared to the Hindu women. About 59 per cent of Muslim women have never attended school. A relatively low male education amongst the Muslims in rural India creates a pressure to impose ceilings on girls' education, so as not to render them "unmarriageable". In addition, the low age of marriage is a major inhibiting factor, which reduces women's autonomy and agency in the marital home and creates conditions of patriarchal subservience that get perpetuated through life. This thereby reduces a woman's self-worth.
This point is well illustrated by the story of Sehroonisha, a teacher at the Project WHY's Special Needs Programme, Govindpuri. "I was always interested in education. From a very young age, I loved going to school". Her dream was to pursue higher education and to have a good stable profession. However, her father did not share this vision and was against her pursuing higher studies as he thought it was a waste to spend money educating girls.
Before her marriage, Sehroonisha lived near Connaught place, New Delhi with her parents, two sisters and three brothers. In spite of her father's attitude, her mother was supportive of Sehroonisha's dream and would work in people's homes doing dishes in order to contribute to her education. Sehroonisha eventually graduated with a Bachelor of Arts degree in 2009.
Upon graduation in 2009, Sehroonisha's father got her married at the age of 20 years to a man who had only been educated until Class 3. "I had to accept my father's decision at the time" rues Sehroonisha. She held out hope that, through marriage, she could improve her life and explain her interests to her husband. However, her husband did not share the same passion for education and she found that his thinking was on similar lines to her father's – that is, education is a waste for women.
Sehroonisha had a daughter and a son through the marriage, and soon realised she was the sole provider for them. Despite her difficulties, she wanted to do something different in her life and stand on her own two feet. She came to know about Project WHY through our advertisement for a special needs teacher. "It seemed like the perfect platform to change my life. Project WHY gave me an opportunity to teach and slowly I was able to rebuild my confidence and take my own decisions with their support."
With the conducive environment of Project WHY, Sehroonisha has been able to articulate and define her dreams. She acknowledges "All my problems are yet not solved but Project WHY has taught me how to address them with my own abilities". Today, Sehroonisha enjoys her role as a teacher at the special needs programme at Govindpuri. She has been with us since 2015 and has now taken on the responsibility of our Special needs vocational training a well as their daily activities.
---
SHIPRA CHAKRAVARTY:  A Teacher at Heart
"Being a single women in a metropolitan city of Delhi is hard, but I did not want to show I was weak"
"Shipraji" as she is called, began teaching at the Project WHY in 2004. At the time, she was looking to restart her career after a series of unfortunate events in her personal life.
Shipra hails from a middle-class Bengali family. Her family came to Delhi looking for a better livelihood. She was born and raised in Delhi along with her siblings. She went to the local government school as well as completed her Bachelors in Arts from Sachdeva college in 1978. "I always wanted to be a teacher and prior to my marriage I worked as a teacher at the R.K Public school". In 1986, she got married, but it was unfortunately not meant to be. She tried staying with her husband and found work at the DAV School in 1988. However, after six months, she was replaced.
In 2003, she legally filed for divorce from her husband. Her family gave her a home in Giri Nagar. Thus, began Shipra's journey as a single woman trying to make ends meet. "Being a single woman in a metropolitan city like Delhi was hard", says Shipra, "the desire to teach again never left me".
"I was determined to prove that women are not weak and with drive , a person can change their life". Determined to find a job and not be a burden on her family, in 2003–04 Shipra began attending interviews regularly at various schools. She had 25 years of teaching experience as she had taught at the DAV school while living with her in-laws. With no vacancy at any school, in 2004 she happened to see a Project WHY signboard which inspired her to apply for a teaching position.
"Working at Project WHY, I began to regain my confidence". She began teaching the children at the Tilak Khand park. In the past 15 years she has grown with Project WHY. She identified with Project WHY's ideology of supporting the education needs of children and going wherever there were children to be taught – be it in parks or dump yards or within the Govindpuri Centre. "I would just teach, for me numbers did not matter – whether there were 15 students or just one, my classes go on".
Whatever the situation; she takes on the challenge with patience and dedication. She never says no. When we started the Kalka Mandir Center in 2017, Shipra took the challenge to teach the beggars children single handedly.
Shipraji is a self-starter and in her association with Project WHY she has been able to help both the children and resource persons alike. She has been a great mentor to new staff and volunteers and whenever our Centre's have undergone a change she has been at the forefront to handle the situation.
---
SONIA GOEL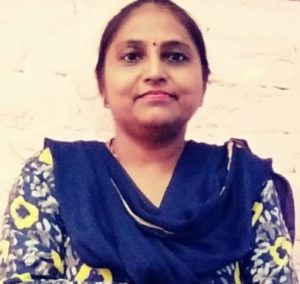 It's hard to fathom the magnitude of challenges that single mothers (widows, divorcees, separated or single parent by choice) face every day in India. Sonia is a single mother of a 11-year-old daughter. She lives with her parents in Kalkaji, Delhi and completed her graduation from Saheed Bhagat Singh College of Delhi University in 1994.
"Being a single mother is tough. Society can be judgmental". To make ends meet she took up various jobs from being a receptionist to a typist at a small corporate company. Since her daughter was very small, she left the job and started a tiffin lunch distribution service from home. "My interest in this work was not 100 per cent. However, financially, it supported my family".
In 2011, Sonia got to know about Project WHY educational center from her friends in Kalkaji. She applied for a teacher's position and joined Project WHY Okhla educational center on August 2011 as a secondary teacher. She taught class 6 and 7.
"The Okhla educational center caters to industrial worker's children; who are often in need of educational support. I am proud to teach children who really need education support but cannot afford tuition due to their economically condition. As Project WHY centers are free, I get a lot of children, especially girl, who want support in their reading and writing."
Currently Sonia teaches class 8 students. "Project WHY provided me an avenue to financially take care of my daughter as well as be a productive member of my community."
---
SOPHIYA TIRKEY – The Visionary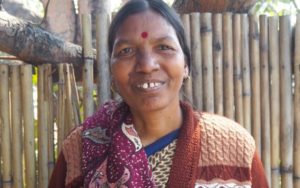 Sophiya is one of our oldest staff members. She joined Project WHY in 2001 when we were still trying to answer the many WHY's of the community and looking for people who would give wings to our dreams. Sophiya had been involved in community work and seemed the ideal person to help us understand the needs of our beneficiaries. Despite her gentle demeanour, and her kind smile; she has an inner strength that seemed to emanate from her. She was keen to join our team and since then there was no looking back.
Sophiya joined as a primary teacher at the Giri Nager centre in 2001 and was loved by all our students. She has also stepped up whenever needed and was always eager to help. "Teaching at Project WHY for me was not just a "job". It became all about getting slum children into schools and supporting them so that they stay in school ".
In 2004, she told us about the plight of the children in the Okhla neighbourhood, where she resided. This was an industrial area with small cramped tenements tucked away between factories that spewed all kinds of venom. There were no schools in the vicinity, no parks for the children to play in and absentee parents that led to children being on their own and ready targets for lurking predators. "I wanted to start Project WHY in Okhla, where I lived".
She offered her home to begin the Okhla center as she felt that the initial ground work would help us gain the support of the community and even authorities. With the help of Pushpa, her close friend, she set out to find a suitable space as well as sought permission from the local administrative and political authorities.
After much searching a garbage dump was located along with the help of the community and Sophiya was confident that it could be transformed into a happy place for children. At first sight, a lot of us were not convinced…but how wrong we were.
"In no time, we opened our 'centre' with a couple of bamboo poles and a bright blue plastic sheet. With Pushpa by my side, we weathered every storm, bore every slander but never gave up." Today the Okhla Centre is a vibrant school where over 350 children are busy crafting their tomorrows. Sophiya is back to teaching her primary kids.
"I am happy working at Project WHY. They gave me an opportunity to not only be a teacher but also do something for my community". Over the years, we have come to admire her quiet but firm ways, even her occasional stubbornness which is so much part of who she is. She is a true visionary and has been a big part in creating what Project WHY is today.
---
SURENDER SAWAI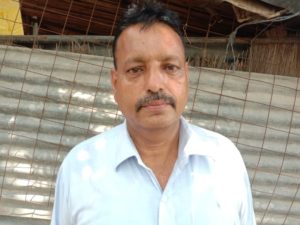 "Teaching and being with children reduced all my mental stress."
Surender's family originally belongs to U.P. He was born in Delhi. His father was a government teacher and his mother was a housewife. He has two brothers and one sister. He currently lives in Krishna Nagar, Delhi.
He completed his class 12 and started working as a water supplier/ distributer in a private establishment till 2012. However, after 2012 he lost his job as he had to take care of his ill father and was unable to go for his work regularly. This brought enormous financial difficulties, as he was the sole earning member. "Losing one's job, in your late 50's, brought a lot of mental stress to me and my family." Forced to look for a job, he got to know about Project WHY from his relative who told him about the educational center in Yamuna. Surender joined Project WHY Yamuna center in 2015 as a primary class teacher teaching classes 1 and 2.
"After joining Project WHY, my financial condition improved. Never imagined that at the age of 55 I would get a job. Teaching and being with children reduced all mental stress."
"The educational center created by Project WHY for the Yamuna agricultural children is unique. Set in the middle of farm lands, this school supports children who can't afford to get an education. Being part of the children's learning journey has provided me mental peace. The greatest gift that these children have bestowed on me is by calling me "Masterji".
Today, Surender is the Yamuna centre in-charge. Along with teaching the children, he ensures that all the children are safe and have fun with learning.
---
VIJAY KUMAR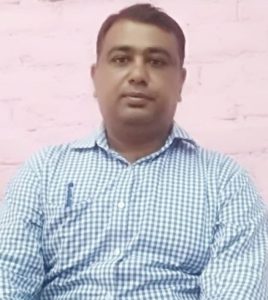 "Coming to Project WHY, I have learnt that there is no age to learning. I am still the sole earning member of my family, but I support a larger purpose now".
Vijay currently is a computer teacher since 2006 at the Cyber WHY programme of Okhla Center. He is also is our computer technicians for all the education centers, whereby he repairs and supports any trouble shooting when it comes to computers. "With computers being all pervasive in education and our career world; my outlook is to provide expose the kids of Okhla on Safe and Effective use of computers.
Vijay's family originally belong to Uttar Pradesh (U.P.) and shifted to Delhi for better earning purpose. He completed his graduation in Bachelor of Commerce. He lives in Giri Nagar, Delhi with his mother, two brothers, his wife, and two children – a son who is in class 7 and a daughter who is in Class 3.
Before joining Project WHY, he earned his living by repairing computer. "It was a hard living as I am the sole earning member of my family". It was Rani Bhardwaj, Center Manager who approached him to join Project WHY in 2006 as a computer teacher cum technician. "I really appreciated her vision for the slum children and I decided to be part of Project WHY's mission".
Since joining Project WHY, Vijay not only teaches computers or repairs them but also got a chance to improve his own technical skills and spoken English. "Coming to Project WHY, I have learnt that there is no age to learning. I am still the sole earning member of my family, but I support a larger purpose now".
---
VIJAY GUPTA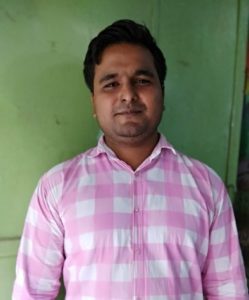 "Here, at Project WHY my abilities to teach has been challenged and I have learnt a lot. I have been given the space to not only to expand the thinking process of children but also put my thinking hat on for many occasions"
Vijay's family originally belong to Bihar. They shifted to Delhi for better earning purposes. Vijay's father currently owns a tea stall while his mother is a housewife. Vijay has one elder sister Sonia Gupta who was a computer teacher at Project WHY.
Vijay completed Bachelors of Art (BA) in 2014 and computer diploma. After his studies, he joined a courier company ARAMEX for one year and left the job to open a computer repairing shop. "My passion is computers and I wanted to build a career with it".
However, the computer repairing shop was not earning much and Vijay had to close the shop. He joined his father in the tea stall. "It was frustrating, jobs were not easily available".
When Vijay's sister informed him about a teacher's position at Project WHY Khadar educational center, he applied and joined Project WHY in March 2018 as a computer teacher.
"I am back to what I do best – being with computers and teaching – thanks to Project WHY". He joined Project WHY as he thinks that teaching children is the best.
"Here, at Project WHY my abilities to teach has been challenged and I have learnt a lot. I have been given the space to not only expand the thinking process of children but also, on many occasions, had to put my thinking hat on".
Vijay also teaches primary class students in Yamuna. Along with academic, he shows the children how to make interesting objects with waste materials. His financial condition has stabilised while working at Project WHY.