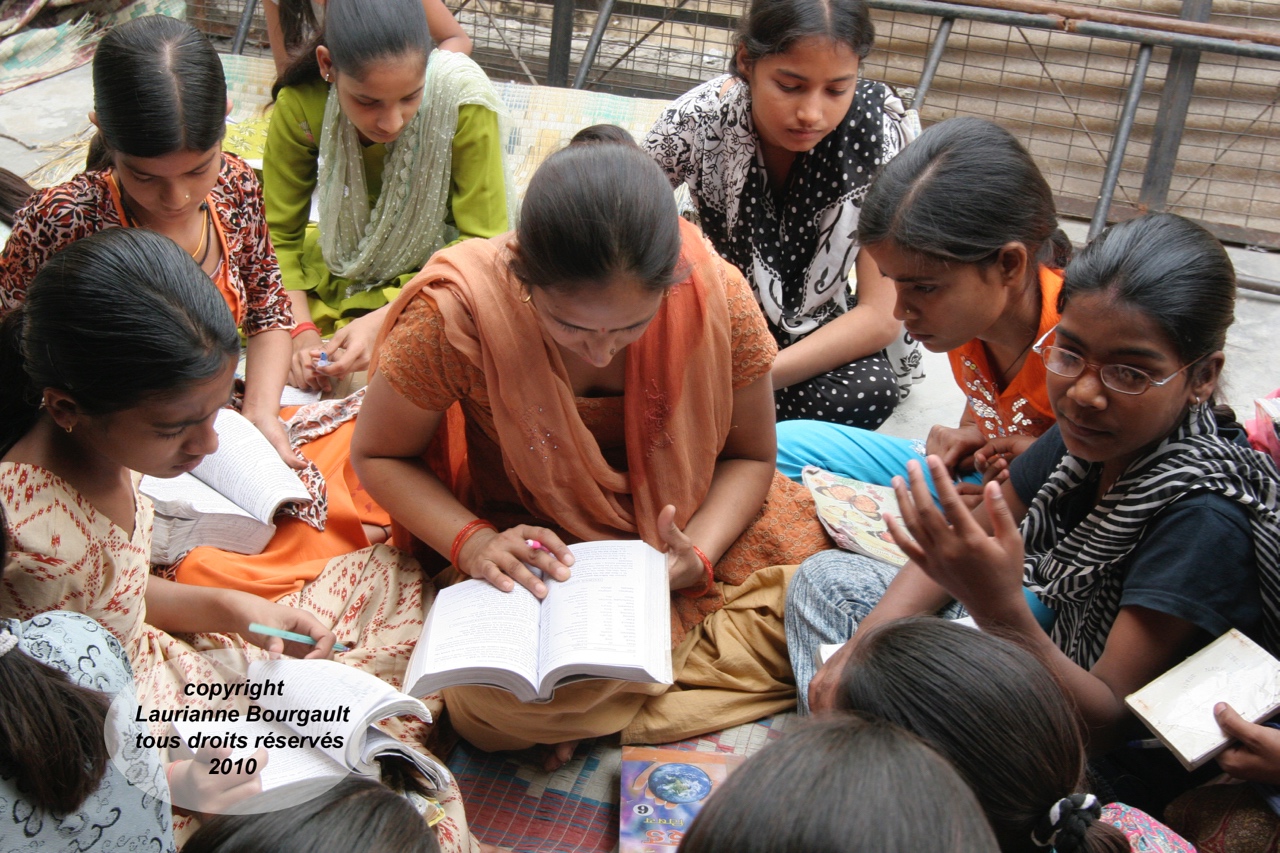 Secondary Class at Khader
The Numbers Perspective! Sounds like a title of a Robert Ludlum thriller doesn't it? Come to think of it is is a thriller in its own right: the numbers referred to are the (ill)famed marks that a student secures in her or his class XII examination. They will the chart the child's entire future.
The dreaded results are out and once again we are caught in the dilemma of whether to celebrate or not. The 
topper 
this year got a whopping 99.04 % with 100% in two subjects.  Just like Project Why children, she is from Delhi but that is where the comparison ends. According to her dad the reason behind her success is that she did not miss a single class and has not taken a single holiday for TWO YEARS not to forget intensive coaching and a supportive family. And that is not all, the candidate she beat by 0.1 % candidly admitted on TV that she had learned every line of every school book by heart!
Project Why children too have cleared their Boards with success, with the top percentage being Kapil with his whopping 92%!  That is a real feat when you live in a tiny hovel, have a drunk parent who disrupts your studying, a TV blaring around you, only 2 short hours at Project Why in the name of coaching and illiterate parents who rather than supporting your efforts tend to undermine them. In these circumstances the 92 % beats the highest  of marks. So we at Project Why are celebrating big time!
Nevertheless we cannot ignore the reality that stares at us. With 99.04% as the benchmark, the cut off marks for admission in State run and thus affordable universities will hit the sky and children from Project Why will not make the cut. Though there are some seats reserved for sports and creative pursuits, once again our children miss the opportunity as their schools and families cannot help them excel. Private universities are unaffordable and so the options are few: evening classes or distance learning. In most cases they need to work to pay for their studies. Two of our old students teach at Project Why so that they can continue their studies.
This was not always the case. One upon a time, and yes it does sound like a fairy tale now, toppers were in the sixty percentile. What that meant was that the difference between the topper and the  student with the lowest marks would be about 30+%. Today the pass percentage of 33% remains unchanged so the difference becomes a whopping 66%. There is something terribly wrong.
Exams earlier had questions that demanded reasoning and thinking like the dreaded precis in English and numerous essay type questions in other subjects. Getting 100% was quasi impossible. Over the years the evaluation yardstick changed and the result was that children belonging to underprivileged homes quietly dropped out of the net of higher education.
This is a worrying situation as many students who are thus denied the opportunity to study could have accessed avenues now closed to them and  excelled. It is time decision makers looked at this problem seriously otherwise education for all becomes devoid of meaning.
To put things in a different perspective the topper of the prestigious IAS (Indian Administrative Service) was declared last week. The topper 52.49 %.
Need we say more.