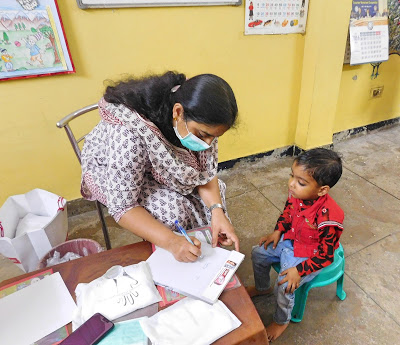 The dentist comes calling
It was dental checkup time for children from the special section, the creche and the primary section. This was the first dental check up at Project Why and was made possible thanks to our friend Neena Gulabani from the Anubhav Learning Centre. Two young dentists Rinku and Shweta spent the morning peering into small and not so small mouths. The children as always behaved perfectly though one or two of the tiny ones got a bit frightened. The doctors gave the children toothpaste and told them to brush TWICE a day. Some need dental care and we are working towards a solution.
The star of the day however was Ganga. She decided to express her gratitude and ours too by performing a lovely dance for the visiting doctors. It was such a special moment and we invite you to share it with us. What makes this so poignant is that little Ganga has a terrible skin condition that may be life threatening.
Sometimes God's ways are difficult to understand for us mere mortals!